MILTON EDGE Beach Skills Academy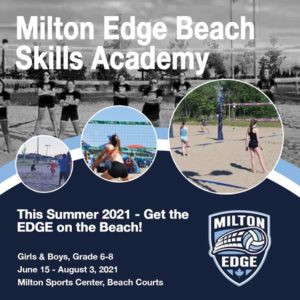 Milton Edge Youth BEACH Volleyball Skills Academy – Boys & Girls, Grade 6-8 – Summer 2021
Full – register to be on waitlist
The Milton Edge Skills Academy program is one of Milton's favourite volleyball skills programs. It is designed for beginner to advanced athletes. With Milton Edge's Development Director, Coach Michael Cameron, lead coaching, and small group size, the athletes have increased opportunity to learn, develop, and improve their competitive skills, all while having fun in the sand! Over the course of the session athletes will progress through beach skills – bumping, setting, hitting, blocking and serving.
It is the summer follow up to Fall/Winter & Spring Indoor Skills Academy. And it is the perfect opportunity for athletes who haven't had a chance to train or play during the indoor season, play other sports, or are not able to commit to rep beach volleyball.
Summer 2021 Session
Dates: June 15 – August 3, 2021
Location: Milton Sports Centre, beach courts
When: Tuesdays 5:00 – 6:20pm
Cost: $200 (includes Edge Beach tshirt & hst)**
**Register to reserve your athlete's spot. First come, first serve, as spots are limited. You will receive an email prior to the session to confirm dates and times. Payment will be required at that time to confirm your athlete's registration.
Full – register to be on waitlist
Please Like Us on

Facebook

for regular updates